Tirante Musculador RF Barcelona
ECCENTRIC MUSCULAR TRAINING
Human movement, and thus physical activity and sport are possible thanks to the forces generated by the different muscle groups acting on the articular bone levers. Training aimed to enhancing the strength requires start from an optimal and balanced development of all muscle chain.
Read More...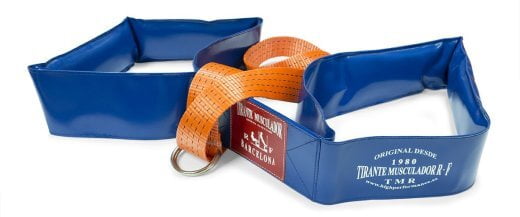 ---
"Es un producto deportivo indispensable tanto para las recuperaciones de lesiones como para la prevención de las mismas muchas lesiones relacionadas con el tren inferior"
"Durante la competición es el mejor complemento para realizar entrenamientos de fuerza para realizar trabajos de mantenimiento y prevención de lesiones".

Propietario de TecnoSport Condition

TMR un Tool indispensable en cualquier centro de recuperación funcional y condicionamiento físico.

Tirante musculador/Cinturão Russo es fundamental para el trabajo de sobrecarga excéntrica cuádriceps / isquiotibiales. 
Poder entrenar a mis jugadores con este tipo de material nos supone trabajar de forma muy tranquila, ellos mejoran en fuerza y elasticidad muscular y nosotros estamos tranquilos porque trabajar con el tmr nos da tranquilidad porque conocemos desde hace muchos años su eficacia tan como como previsor de lesiones, como recuperador de las mismas como fortalecedor de la musculatura, es un producto indispensable

La verdad que el cinturón me ha ayudado mucho en mi preparación a los largo de estos años. He tenido problemas con la espalda y las rodillas, y desde que introduje los ejercicios con el cinturón, la situación a mejorado bastante. Para mi el cinturón es un complemento indispensable en mis entrenamientos. Hemos conseguido sustituir el hacer sentadillas, tan necesarias en nuestra especialidad, por otro tipo de ejercicio alternativo que ha hecho que sigamos fuertes y no tengamos lesiones.

WHAT'S TIRANTE MUSCULADOR RF?
Since late 80's and form the experience of the athletics trainer Hans Ruf, new train methods has been developed to increase the force and avoiding joint overloads and column compression.
The traditional weight machines which allowed a located work as well the leg press which build the extensor legs muscle without overload the column, had the disadvantage of not work-out all the muscles chain, as another sport activities do.
The trunk and hips stabilization muscles are passive. The "Tirante Musculador RF Barcelona" from now on "TMR", is a simple belt that allows anchor the calf and leave the body hanging with the gravity center far from the fulcrum of the knee and thus increasing a lot the overload.
Read More...