Tirante Musculador RF Barcelona
ECCENTRIC MUSCULAR TRAINING
Human movement, and thus physical activity and sport are possible thanks to the forces generated by the different muscle groups acting on the articular bone levers. Training aimed to enhancing the strength requires start from an optimal and balanced development of all muscle chain.
Read More...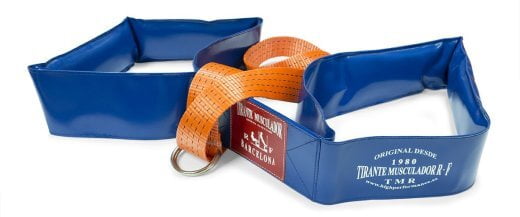 WHAT'S TIRANTE MUSCULADOR RF?
Since late 80's and form the experience of the athletics trainer Hans Ruf, new train methods has been developed to increase the force and avoiding joint overloads and column compression.
The traditional weight machines which allowed a located work as well the leg press which build the extensor legs muscle without overload the column, had the disadvantage of not work-out all the muscles chain, as another sport activities do.
The trunk and hips stabilization muscles are passive. The "Tirante Musculador RF Barcelona" from now on "TMR", is a simple belt that allows anchor the calf and leave the body hanging with the gravity center far from the fulcrum of the knee and thus increasing a lot the overload.
Read More...